ProCredit Credit Reporting
As a reseller of all three major bureaus for 23 years we can help you reduce your credit report and compliance costs due to our high volume and efficiencies of operation. Our ProCredit software offers industry leading credit report and compliance solutions as well as an additional desking solution to help you close more deals at higher grosses. Dealerships can also drop our credit bureau codes in their Dealertrack or RouteOne systems.

Pull credit reports in seconds, complete and submit credit apps and get more deals approved with ProCredit!
Run up to 3 credit bureaus for the applicant and co-applicant with one click!
Credit scores are displayed in seconds and link to the actual credit bureau.
Missing necessary information is highlighted in yellow.
Red Flag scores and alerts can also immediately be displayed.
Local representation for face to face service.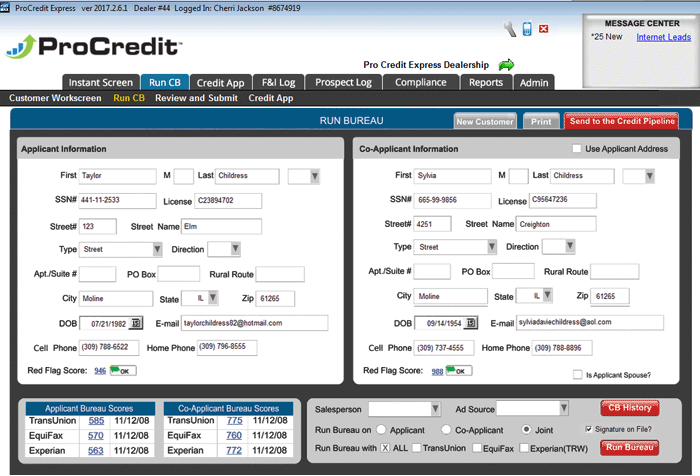 Easy to use Credit App
Easy to use credit application, formatted for electronic submittal to RouteOne®, DealerTrack®, Credit AcceptanceTM and ACC.
Includes sections for references, insurance information, and lender specific requirements.
Website credit application available to pre-screen and pre-approve leads from your website.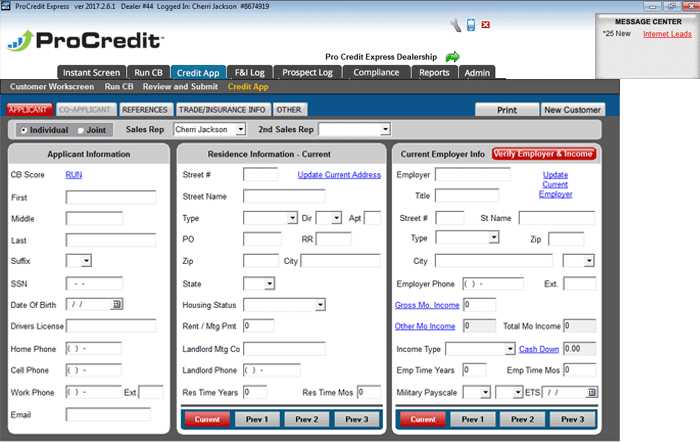 ProCredit Exclusive
Be instantly alerted if your prospect has been shopping at your sister stores and save duplicate credit bureau costs!
ProCredit can electronically submit your credit application and receive callbacks
from RouteOne®, as well as submit to Dealertrack® and Credit AcceptanceTM!
Select the lenders to submit your application electronically or by fax.
Submit different deals to different lenders, including payment calls.
RouteOne callbacks received within 60 seconds.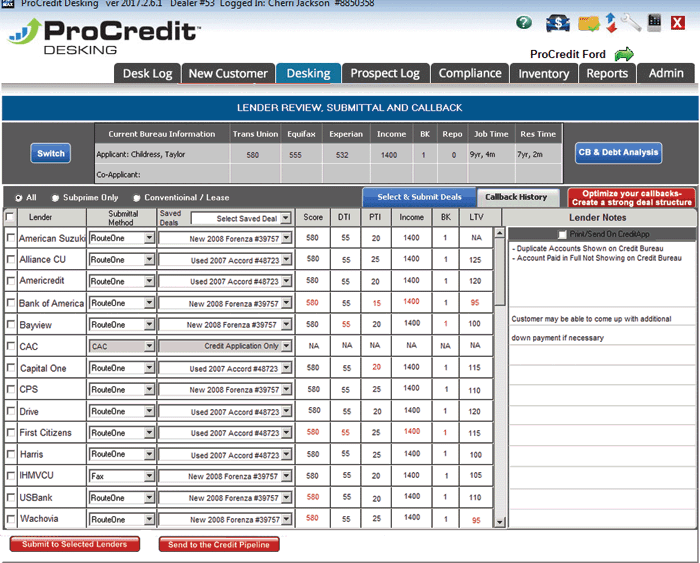 Minimize the chance of an electronic turn-down
For borderline customers, create the perfect vehicle and deal structure to help get the initial qualification.
With ProCredit, good F&I managers become great!
Lender's max payment calls can often keep you from maximizing profit. At a glance, the ProCredit exclusive Credit Bureau and Debt Analyzer groups the open accounts for a productive customer interview. That Sears charge was paid off last month? There's an extra $50 a month for holding gross and selling finance products!