Instant Auto Credit Application
Increase your website credit leads by up to 300% and drive pre-approved internet traffic to your dealership!


What is it?
The Instant Auto Credit App is a fast, easy, and short form that can be plugged into your current website. It can also be used as a stand-alone micro site. It allows the customer, while on your website, to instantly see if they are pre-approved as well as see their exact credit score.
Why it increases leads?
With the threat of identity theft and privacy issues most people will not give their Social Security Number online. As well, they don't want to take the time to fill out long and tedious apps. With Instant Auto Credit App, all the customer has to provide is their name, address, and email. There is no Social Security Number required and no long form to fill out. Knowing they can see if they are pre-approved as well as see their exact credit score gives them the incentive needed to fill out the short app.
Dealership receives Auto Summary info with every lead
Dealerships will love the increase in leads but they will also love the additional bonus information they will receive with each lead. In addition to receiving the customers contact information & credit score they will also receive the customers auto summary information. This will contain the customer's monthly payment, interest rate, original loan amount, est. payoff amount, term of loan, number of times late in the last 24 months, etc. How valuable is it to have this information before you ever speak with the customer?
See How Simple the Process Really Is:
We offer versions of this product through both TransUnion and Equifax. Screenshots on this page represent the TransUnion version. Directly from your website the customer fills out quick and easy short form – no SSN# required!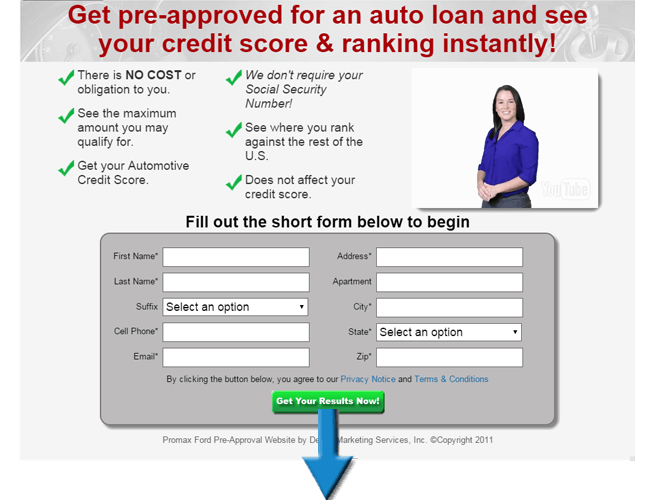 While still on your website the customer will immediately receive their pre-approval status
and their exact credit score!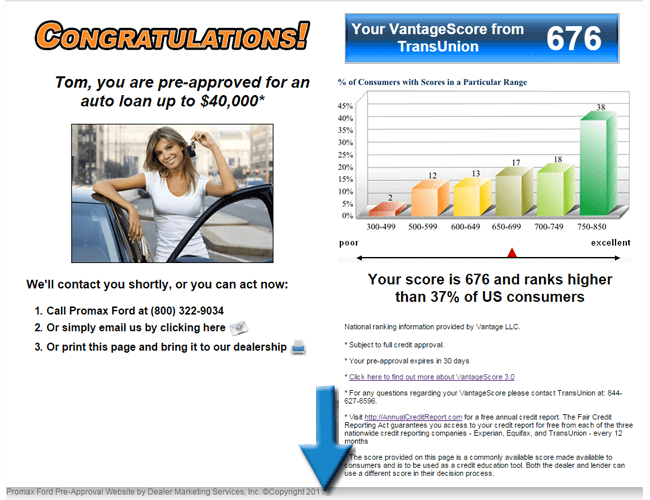 At the same time your dealership will receive the customers contact information,
Auto Summary information, and exact credit score.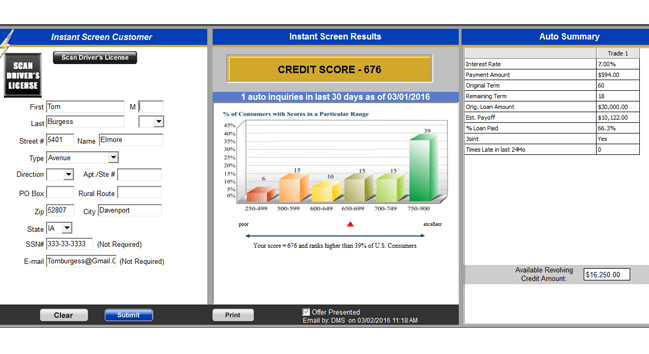 Get more information on Instant Auto Credit App