ProCredit Trigger Leads
Your competitor's frustrated prospects can be your happy CUSTOMERS!
A ProCredit Trigger Lead is someone that just had his or her credit report pulled for the purpose of auto financing whether by a dealer or a lender. Maximize your marketing dollars by targeting consumers that are actively pursuing an auto loan and actually have the intention of buying a car today. Automotive trigger leads are sent daily and consist of people who have completed the following:
Applied for auto financing at a local credit union or bank
Applied for credit at another dealership within a specified range
Applied for loan modification with their current lender (i.e. looking to reduce monthly payments)
Submitted an application via the internet providing authorization to pull a credit report
Applied for a lease modification or extention through their current lender
With the ProCredit Trigger Lead program created by Dealer Marketing Services you have the option of choosing from the following national Credit Reporting Agencies:
TRANSUNION , EQUIFAX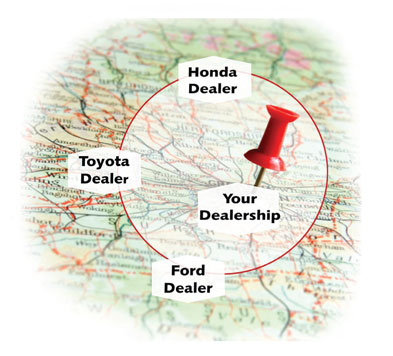 How can this be legal?
The FCRA allows Inquiry triggers to be used in both the automotive and mortgage industries. Under the terms and conditions defined in the FCRA inquiry triggers fall under "pre-screened" firm offers of credit.
Here's how we make the program turn-key for your dealership:
We have already arranged a lender who will extend a firm offer of credit to any dealer we choose.
The mail piece and phone script have been reviewed and approved by the national credit reporting agencies. (CRA's)
We will handle all direct mail and disclaimers that legally need to be pre-printed
Your competitor's frustrated prospects can be your happy CUSTOMERS!
How many times per week are sub-prime prospects walking into the dealership down the street and walking out without a vehicle because that dealership doesn't have the right lenders, inventory, and most important - people to get the job done. Those consumers think that all dealerships are the same, so there's no reason to go to another dealership just to hear "NO" again. Is there a good chance that you would have been able to help these people get financed?
Wouldn't it be great if you could contact these prospects to let them know there is hope? Our ProCredit Trigger Lead program does just that!


Most of our customers pull a radius from their zip code, filtering by a certain FICO/Beacon score. We then provide you with the leads early each morning, with phones that are scrubbed daily against the do not call database. Let us run a FREE no obligation count for you today. Compare it to the higher-priced competitors on the market. In today's economy; you can't afford to waste money on high-priced leads that offer consumers who fall outside of your current finance sources.

100% money back guarantee!
We will return unused portion of your order if you are not 100% satisfied with our leads. We are the best in the industry. Don't be fooled by other cheap imitators!