DIRECT MAIL
With over 15 years in direct mail Promail will deliver on time, every time. We have produced and delivered more than 17 million pieces over our 15 years in business. By leveraging this expertise, we effectively bring direct mail to market that fills the need of dealerships nationwide.
Our signature product, Promail will turn an ordinary week into a your best week ever. Not only will we fill your showroom with traffic, our in house management team will train your staff how to turn your traffic into buyers and we do it all for free with a purchase of one of our signature Promail campaigns.
Each automotive direct Mail campaign has been designed with a specific marketing strategy in mind. The presentation of each piece is delivered in such a way that the reader will understand that they have been preapproved by credit criteria established for your specific dealership. We ensure that each lead is preapproved through our close partnerships with Experian, Equifax & TransUnion.
We don't send you a shell, we customize each mail piece. We add logos, a map, photo of the dealership, photos of sales staff, and any other feature that you would like to see presented to the potential customer.
Our strategic analytics team provides clients with:
-Campaign Reporting
-Prime & Subprime Expertise
We also have off the shelf sub-prime direct mail that has proven to be the most effective direct mail in the industry. Our continued commitment to using the latest technology has given us the best results in the sub-prime market.
Please contact your account manager to inquire about producing your dealers next direct mail campaign or email us below.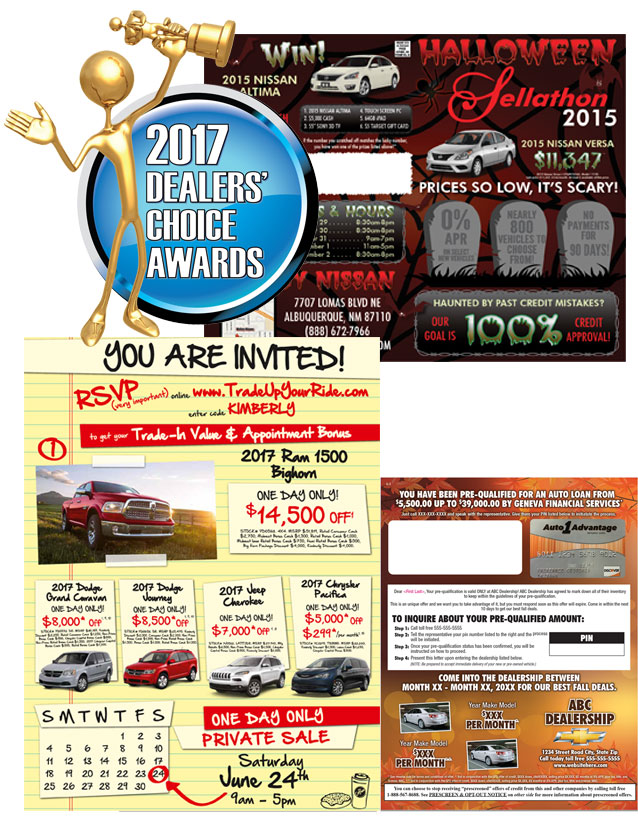 Get more information on Direct Mail